Camp is an opportunity to try new things.
Campers spend their mornings in groups with their peers. In their groups, campers try the different programs at camp, led by expert staff with professional backgrounds in education, fine arts, athletics, and more. In the afternoons, campers design their own programming by choosing a program unit on which to focus their time. As campers progress through their years at camp, they are given more options to choose from.
Unit Choices
Campers 2nd-6th grade get to try out all of the units in morning activity rotations, then choose a unit weekly in which to focus on during their afternoons.  Our younger K-1st grade campers have smaller daily choices and get to experience all of the following units.
Creating, Planting & Pioneering (CPP)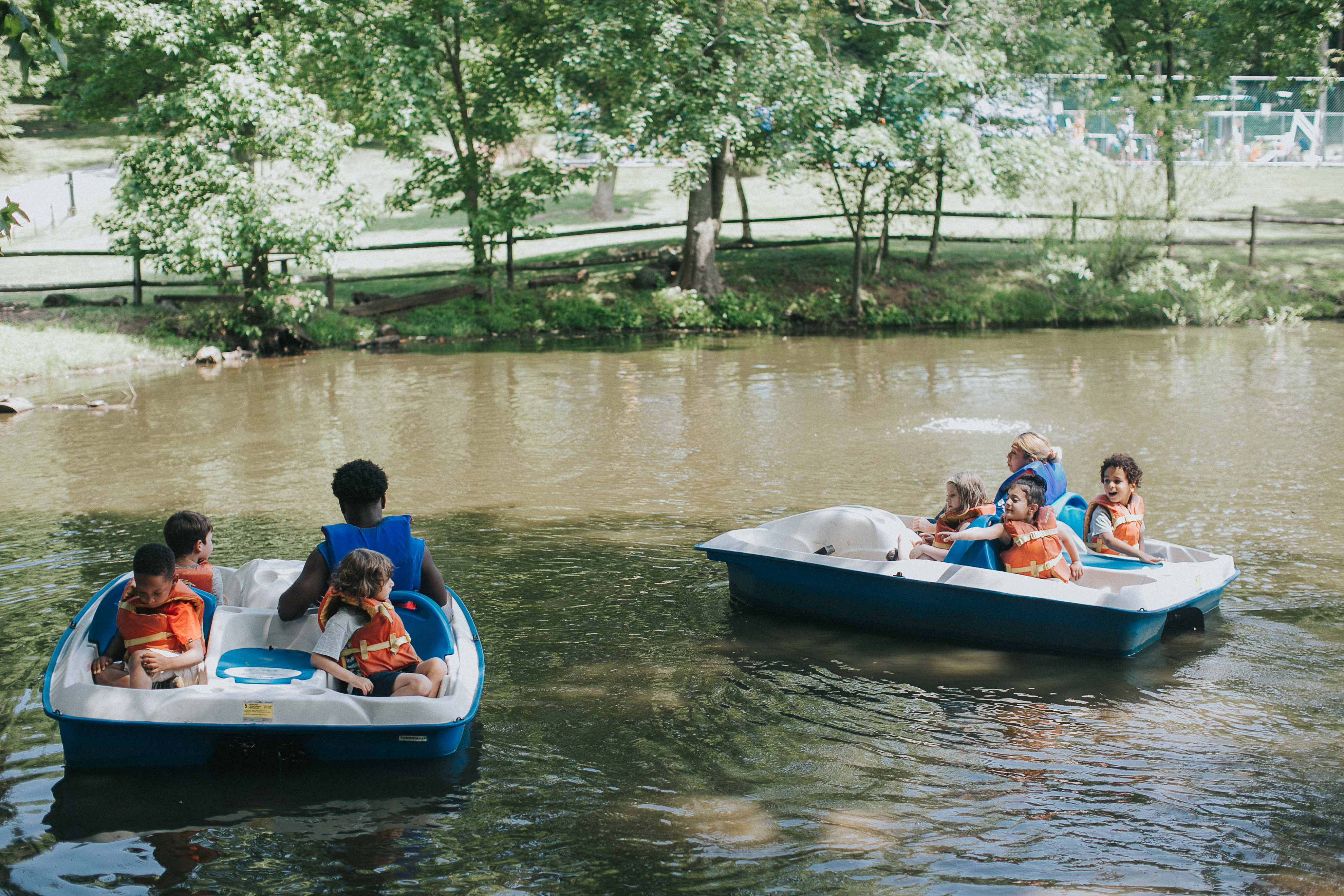 Swim Program
NCDC has 3 outdoor pools: one Olympic sized pool ranging from 3-9 feet deep, one Olympic sized lap pool which is 4 feet deep, and one teaching pool ranging from 2.5 to 3 feet deep. We offer both instructional and recreational swim every day. At New Country Day Camp, campers learn to swim through the Lenny Krayzelberg method.  All pools are staffed with American Red Cross certified water safety instructors and lifeguards, and our swim ratios for the instructional groups are 10-15:1 depending on the level of the swim group.  Please see our swimming page for more information!
Camp Activities:
Swimming twice a day in our premier outdoor pool complex
Paddle Boating
Frog-Catching
Playground time
Special Events (Game Shows, Performances, Maccabiah, etc.)
Transportation
Campers are bused from central locations in lower Manhattan and Brooklyn to our beautiful campgrounds on Staten Island.  Check out our transportation page to see out Summer 2018 bus routes and stops. Please note: all stops and routes are subject to change based on enrollments.
A Typical Day At Camp:
8:15 Bus pick-ups in Brooklyn and Manhattan
9:00- 9:30 Arrival and morning check-in
9:30-10:15 First activity period (alternates daily)
10:30-11:00 Instructional Swim
11:15-12 Second activity period (alternates daily)
12:00-12:30 LUNCH
12:30-2:15 Unit (Choice) Time
2:30-3:00 Free Swim
3:00-3:30 Unit (Choice )Time
3:30-4:00 Snack
4:00 Departure
4:45 Dismissal from buses
*Note: Dismissal from buses is subject to change depending on traffic and length of route. Dismissal may be as early as 4:20. Additionally, on Fridays we end an hour early, and arrive at bus stops for dismissal an hour earlier than usual
Aftercamp
Aftercamp is an extended day program located at the 14th Street Y. Brooklyn and Manhattan campers are able to come back to the Y until 6:00 pm and participate in various activities such as gym sports, board games, and our rooftop playground. Parents must pick up at the 14th Street Y in Manhattan by 6:00 pm.
Community
Open Tent Judaism is an approach to Jewish community based on the story of Abraham and Sarah's tent, which was open on all four sides to welcome all who approached, regardless of prior knowledge or background. The great big New Country Day Camp tent is open to and provides access to:
Families
Diverse, interesting and talented young families from areas such as the East Village, the West Village, TriBeCa, Park Slope, Cobble Hill, Williamsburg, Bed Stuy and more!
Staff
Professional staff with years of childcare experience, college degrees, MFA's, MSW's, and more ruach (spirit) than any camp staff you'll ever meet!
Campers
We meet campers where they are, from those who identify as traditional learners to those with high-functioning autism and other related developmental differences such as ADD/ADHD, learning disabilities, and language delays. Our world-class staff supports all campers as they learn and grow into pioneers, artists, athletes, scientists, and more! To learn if our staff might be able to appropriately support your child with or without special needs, please contact the camp team directly at 646.395.4357.