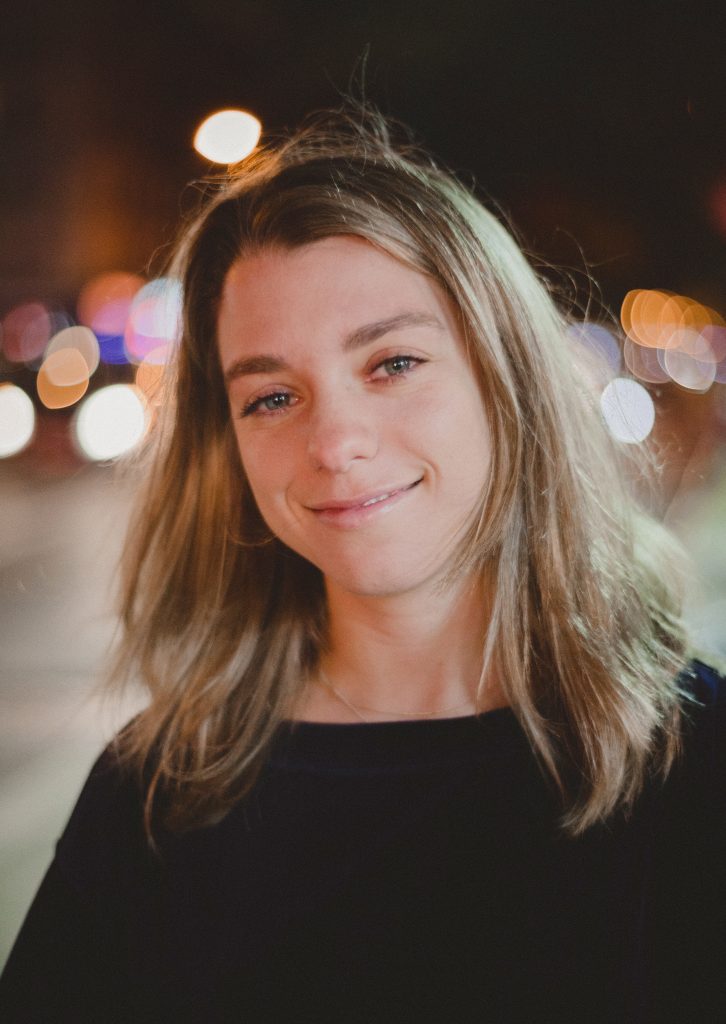 It's a really great community. I didn't grow up with a lot of Jewish community as a kid and it was interesting to dip my toes into that with it still feeling in sync with my life. I really appreciate the diversity of the After School staff, and it's just nice to work somewhere that reflects the greater New York City that we live in. I think it's a good group of people doing good stuff.
I do feel like I found a real community when I started working here, because I found real people that exist in the city and are from the city rather than the liberal elite bubble where I went to college. Community for me is where I can show up and be the most legitimate form of myself and feel comfortable and feel celebrated. And I do feel that way here. I can literally just just bring me, and people are like, 'weird,' but they get on board with it. A lot of it is here. Some of that is in the comedy community, but a lot of that is here at the Y. I think it's also with my roommates and where I live. It can feel very split up because I feel like spaces provide you with different things and satisfy different parts of yourself.
I really like doing the Jewish programming here because it includes meeting people where they're at. It's how I was taught as a kid. We serve a community that isn't all the way Jewish. It's really rewarding when I can make Judaism accessible for people. For me it makes sense that I'm in this position, because as a kid I didn't grow up in very Jewish spaces. I was mostly, in a way, playing spokesman for Judaism… with limited knowledge on the subject, but really talked about it with confidence.
I didn't get Bat Mitzvahed or anything like that. Honestly as a kid being Jewish was mostly just celebrating the high holidays with my very dysfunctional family–which was only just my family. It was still such a big part of my identity and something I held on to, and something I will always hold onto in my life. It's cool to be in a position where I'm supposed to investigate this part of myself that's always existed, but also having it make sense for people that don't have it as part of themselves–finding a way for it to make sense for them. I think Shabbat is really fun because it literally is chilling, eating, and celebrating–who isn't going to get on board for that. It's fun songs and it's cool to see that dawn on people. It's not just weird and super religious–we're not talking about G-d every five minutes. It's a lot of just talking about general good here. It's connecting to families and life.
I think that especially with things that I've brought into Shabbat programming like 'Mensch shout outs' and being able to have kids talk about nice things people have done for them is really good. It gets them thinking outside of themselves. Mensch is just a Jewish word for 'good person,' so it's a very universal idea that people can latch onto, but being learned through a Jewish lens. You know, I think Jewish culture is a minor culture, less so in New York. I start with a Shabbat check-in and I present a Hebrew word that just means 'being a good person' or 'doing something nice' and it makes sense in any language. But here it is in Hebrew to kids that wouldn't otherwise have that Jewish association. It's good to think about and good to believe in. It's awesome to see them get excited about Jewish things.
This one girl, Emily, is obsessed with Shabbat and her mom came up to me the other day and said: "She has me buying Challah, it's so cute!" And they're not a Jewish family. Emily just loves Shabbat and Shabbat check-in. It's those type of things that are so nice to see.
---
Portraits of the 14th Street Y is a photography project by Bridget Badore that tells the stories behind the many faces of the 14th Street Y community, including members, staff, teachers, trainers, artists, caregivers, families, and local business owners. Each year, the unique stories of more than 20,000 New Yorkers is woven into the fabric that makes the 14th Street Y a Downtown home for all.

Learn more about this exciting photography series here. You can also follow along and support the Downtown Stories on Instagram, Facebook and Twitter.
---
Join us for eight days of Hanukkah celebrations here at the 14th Street Y! 
We're also honoring the Jewish tradition of Tzedakah, which in Judaism is simply an act of justice and righteousness–the act of giving back to our community and those in need because it is the right thing to do.
We urge you to join us for 8 Days of Giving as we aim to raise $18,000 by December 31!
Your generous support helps us provide programs at reduced rates to those in need. No matter what holiday you celebrate, we hope you'll join us in the spirit of giving this year to help us keep our doors open to everyone in our beloved Downtown community.