On February 16th, 2021, National Public Radio's Education Team sent out a call on Twitter to teachers to tell their stories about teaching throughout the COVID-19 pandemic. I sent a direct message in the hopes that they would ask me to tell my story. Two weeks later I was lucky enough to receive a call from Eda Uzunlar, the Education Desk Intern, who listened to what I had to say. Another two weeks later, I hopped on a zoom with Eda and LA Johnson, NPR's Art Director and Illustrator, who had the plan to create a comic to feature one teacher each week until the end of the 2020-2021 school year.
"Have you ever thought of switching careers?" asked Johnson, in reference to the fact that in March 2020, the field of education was forced to radically change on all fronts. I have loved, still love, and will always love teaching. When we left our classrooms on March 13th, we had planned to take one week off. We quickly realized that the COVID-19 pandemic was an unavoidable reality and along with educators around the world, we had to adapt to what was in front of us—uncertainty, uncertainty, uncertainty.
After moving my 3-year-olds and my classroom to remote instruction from March 2020 until the remainder of last school year, my mind was gearing up for what the next school year could look like. I returned to my untouched classroom five months later—I found sun-bleached paintings, papers and materials still stacked precariously, and to the delight of our exterminator, a dead mouse.
Just like the previous school year, my co-teacher, Miss Marion, and I set up our room meticulously in order to warmly welcome our 2-year-olds. The differences this year included figuring out how to teach little ones to wear a mask (and keep it on), making sure there were enough supplies for each student to have their own set, and planning out how to modify our daily routines. I worried about the impacts of "pandemic preschool" on my students. It's easy to let your mind race when you have a whole summer to ruminate.
One thing I thought about was their oral language development. Can they hear me through my mask? Will their progress be hindered? They can't see my mouth—something that one may not normally think about, but seeing the mouth make the sounds of words is extremely important for emergent language learners. How will we know how each other is feeling if 75 percent of our faces are covered up by our PPE? The teachers and I brainstormed solutions to these problems, like using clear masks! However, we are restrained by health and safety regulations and recommendations like how we must wear at least a triple-ply cotton mask. Once the new COVID-19 strains popped up, we were advised to wear a second surgical mask for better protection. Clear face shields seemed like the next best solution, but we still are required to wear a mask under the shield.
Regardless of these challenges, we continued to focus on social-emotional learning: the process of learning how to identify and manage our emotions, grow empathy for one another, and establish positive relationships. This is another vital domain of development that our job calls us to facilitate for our tiny humans. After documenting their language development through audio recordings, transcriptions, the words they assign to their drawing and writing, and daily observations, I can confidently say that my students have progressed and excelled steadily since September. Babbles turned into words (or half-words), words turned into phrases, phrases turned into sentences, and now I have the joy of hearing them tell me their stories and ideas.
With the help of my classroom's Mood Meter, developed originally from researchers at the Yale Center for Emotional Intelligence, my students are able to show me how they're feeling. They look at themselves in a mirror, look at the mood meter, and they point to somewhere on our four-quadrant tool to let me know what's happening inside. They can tell me as little or as much as they want. The first time I introduced this tool, I got some blank stares and speechless children after they looked themselves in the eyes. After several sessions of this routine, the thoughts came flowing out of them. "I'm feeling happy, because my [toy] bunny is in my backpack," says one child. Another child reflects, "I'm feeling upset, because my dad took my toy away." These are simple sentiments, but identifying and analyzing one's emotions is critical now more than ever.
So here we are, more than seven months later and still thriving. My students' resilience continues to astound my co-teacher and I. When I think about changing careers due to the change of the educational landscape, I know inside that I am called to persist and show up for my students who do the same (and write about it!)
You can find the COMIC: Teaching Preschoolers While Masked Up During The Pandemic by LA Johnson here.
A thousand thank yous to NPR, Eda Uzunlar, and LA Johnson, for taking the time to listen and amplify teacher's stories during this unprecedented era of teaching and learning.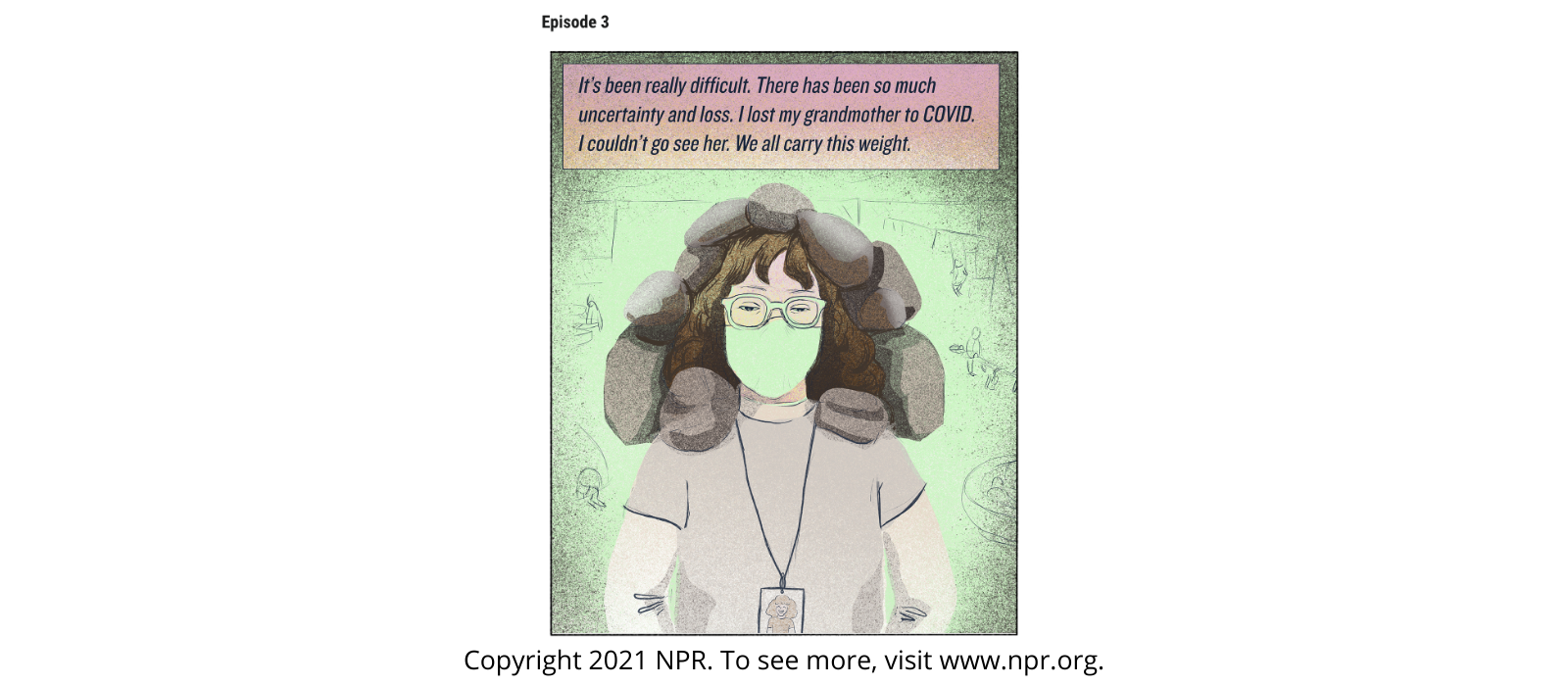 ---
About Maria Lemire
Maria Lemire (they/them) is an early childhood and special educator from Long Beach, California. Graduating from New York University in 2019, Maria now works primarily with 2- and 3-year-olds at the 14Y's Preschool. Maria leads school-wide and family programming at the 14Y, specializing in music and mindfulness. They also proudly attend City University of New York Hunter College to study Literacy from Birth-Grade 6, and they strongly believe in strengths-based approaches to education and culturally responsive teaching.