A New York playwright and essayist who writes for The Washington Post, Salon, Out Magazine and more, Mark Jason Williams brings The Other Day to audiences at the Theater at the 14th Street Y following successful runs at the Capital Fringe, Chicago Fringe, Fresh Fruit and Planet Connections Theatre Festivity, where it received the award for Outstanding Playwriting. He has a BFA in Dramatic Writing from NYU's Tisch School of the Arts and his plays have been produced in cities such as New York, Chicago, Minneapolis and Washington D.C.
David: Mark, you and I first met almost ten years ago when we were paired together to receive awards for social activism in theater.  As a writer, you have written plays, essays, and editorials. Do you feel social activism continues to motivate your work? What drives you as a writer and how do you keep your (dare I say patented) Mark Jason Williams sense of wit and humor when writing about heavier subjects?
Mark: I can't believe it's been almost ten years! I remember standing on the stage with you, shaking because I was terrified of public speaking. Yet I feel so strongly about the importance of social activism in theater (and offstage, for that matter) that I was able to stand in front of a room of people and speak from the heart. It's the same when I'm writing. I often set out to explore today's moral compass and confront issues such as toxic masculinity, LGBT rights and gender equality. I'm always driven by telling an authentic, meaningful story through full-bodied characters that are flawed and not afraid to show it. I love that you've given me a patented style! I learned to use wit and humor when I went through leukemia as a child. In moments of life and death, there still had to be laughter. The same rings true when I'm writing a play. I think about life's moments and wonder what the most natural and multi-layered reaction would be. Sometimes it's a laugh, even in a  situation that can be perceived as sad or tragic. Finding the humor and levity brings adds a layer of authenticity, I believe.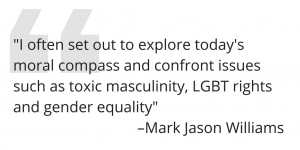 David: Tell our community members a little bit about yourself.  You've been published on many sites with some of your essays.  Namedrop some of these and tell us about your favorite essay
Mark: As an essayist, I've been published by several magazines and newspapers including The Washington Post, Salon, Out Magazine, Good Housekeeping, The Cleveland Plain Dealer, The Denver Post and Honeysuckle. "Phone Sex Change," written for Out Magazine, was my first to be published (special thanks to my amazing writing teacher and friend, Susan Shapiro) and is still one of my favorites. It's a funny and heartening story about how I'm often mistaken for a woman over the telephone and how that wreaked havoc on my love life and made me feel like less of a man. I like this one very much because it makes people laugh, but also because I allow myself to be very vulnerable, which also helps make it relatable. I also really like my essay in the Washington Post, "I Love My Boyfriend, But Do I Love His Dog" because it was a ridiculously fun, but also a nuanced and authentic way to explore my insecurities in a new relationship and depict the real impact dogs can have on our lives.
David: Your play, The Other Day, is playing here next month.  It is a play I have been fond of for several years.  For me, it is about mourning and rebirth. Is that how you would frame it?
Mark: Thanks, David. I am really excited to share this play with the Theater at the 14th Y's audiences! I agree that mourning and rebirth are central themes of the play. It's also about co-dependency and finding the delicate balance between pleasing your significant other and staying true to who you are.
David: Our Season is War & Peace.  For our Artistic Team, The Other Day articulates the War & Peace of inner demons with addiction and also within relationships.  Relationship plays seem to be a theme of your work. What motivates you to examine intimate relationships and what do you hope our audience leaves with?
Mark: Relationships are incredibly fascinating to me because what we say and how we act can vary so much depending on who we're with, and nothing represents the human condition better than showing the emotional journey we encounter alongside or against one another. Does unconditional love actually come with conditions, and what are they? Relationships bring conflict, love, barbs, saying the wrong thing, explorations–they're real life and tie in to how I often think of my plays as looking through someone's living room window and experiencing 90 minutes of their lives. With The Other Day, I'd like audience to leave thinking that this isn't a  play about gay or straight relationships, just human relationships.
---
Planning on seeing 3 or more shows this season?
Get the Flex Pass, 3 shows for only $42!