Roger Gonzalez of LocalTheatreNY speaks with Lenore Skomal, Broadway Bound Theatre Festival Director, about what's new in 2018, her advice to producers just starting out, and the future of BBTF.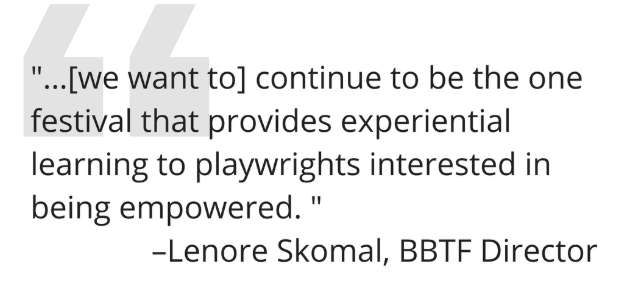 Featuring gripping dramas, hilarious comedies, tear-jerking tragedies and even something for the little ones, Broadway Bound Theatre Festival is truly NYC's hidden gem. Read Roger Gonzalez interview with BBTF Director, Lenore Skomal to find out more about the festival that runs this August at the Theater at the 14th Street Y:
Roger: In terms of types of plays, or genres, what can we look forward to this summer at BBTF? Any highly anticipated work you would like to preview for us?
Lenore: We're kicking off our season with the true life story of young John Lennon, which we're really excited about. We have several poignant straight plays that toy with gripping themes such as reincarnation, life after death, suicide, and even assassination. There's no shortage of compelling relationship dramas, including two brothers with radically different politics trying to find middle ground, a grieving daughter returning to Israel for her father's funeral only to find it's not what she believed it to be, and a metaphorical play about a newlywed couple forced to look at whether or not they should even been married. We have a dark comedy about a debaucherous Florida retirement community, a drama about a pop star's ultimate demise at the hands of her own social media, a whimsical piece about a rural community that wakes up to a crop circle, and a beautifully crafted work about a Yazidi woman in a refugee camp. And for the first time ever, our first play for young audiences, called CARROTS, the story of Peter Rabbit, which we are very excited about.
Roger: In your second year of the festival, we see you've added some free readings to the schedule. What's different for 2018? What can we expect to see that's new?
Lenore: Like last year, we had several submissions where our panel felt the bones of the plays were solid, but they needed more work. It then occurred to me, instead of just sending back a critique, why not offer these playwrights the opportunity to be a part of the festival as a reading, as opposed to a full three-performance run? They could take advantage of everything we give to our playwrights in terms of training, hands on support, tutorials and marketing, but use it toward hosting a professional staged reading. We call it the Incubator Reading Series. And participants in this inaugural year can be guaranteed a spot in our 2019 lineup, if their revised script passes muster.
Roger: Tickets are already selling fast! Why do you think that is?
Lenore: We have a group of playwrights who truly want their plays to be seen by sellout audiences. That's been the driving force behind ticket sales. We're also enjoying the wake from our successful first season. We've cultivated an audience of regular theatergoers who know we have outstanding works on our stage for affordable prices and they should expect nothing less.
Roger: What do you think makes BBTF unique compared to the many other festivals out there? How are you different in terms of selecting your plays, and what do you look for in a BBTF submission?  
Lenore: I have no idea how other NYC festivals select plays, so I can't speak to that. The system I put into place, plus the critiques the playwrights get with their submission, helps us cull through the plays in as objective a manner as possible. Subjectivity really has very little to do with our process. What we look for is pretty simple: complete works that exhibit a measure of talent and an understanding of playwriting structure. We're not wed to conventionality—-we are of the opinion that if you choose to break the rules, you'd better know them first. More importantly than the work itself, I also interview the finalists via telephone. We are looking for a very particular type of playwright-—someone willing to do the work of a producer, as well.
Roger: In your opinion, what are the biggest challenges playwrights have these days? How do you address those challenges?
Lenore: This industry is in flux, not unlike the book publishing industry. The reason we started BBTF is to provide a support for the playwright because the way that business is being conducted is changing—and we suspect, for good. We don't ask the playwrights to do anything that we haven't already done as playwrights and creatives ourselves. Anything we share in terms of information has been proven to work by our own experience. It's that credo that's pushing me to put my latest play THE EXES on Off Broadway for a successful run next summer. I'm the guinea pig. And I'm documenting everything I do from developing investors, to hiring an entertainment lawyer and a consulting team, to picking a venue, casting the play, negotiating contracts—you name it. I teach by example. So when you ask about challenges that playwrights face? From where I sit as a playwright myself, I see the primary challenge as lack of empowerment. By hoping and praying someone will produce your work, which is the old model, you are in a powerless position. By learning how to do it yourself, at the very least, you have knowledge and that is power. And you also have something else—the ability to do it yourself. That's real power. That's what BBTF can teach you.
Roger: Long term, say in 2019 and beyond, where do you envision BBTF headed?  What can we expect from BBTF in the near future and several years down the line?
Lenore: Our model is always changing. Every year it changes and grows to meet the needs of the industry and its playwrights. I suspect, in keeping with our overall mission and impact statement, we will continue to be the one festival that provides experiential learning to playwrights interested in being empowered. There are many opportunities here in NYC to learn about producing a play. Plenty of people will take your money to educate you. We are the only outlet that not only educates you, but does so by having you do it yourself, with our complete support. That's experiential learning.
Roger: As a festival producer, any special advice or message you would like to send out to playwrights out there?
Lenore: Be ready to learn and roll up your sleeves to do the work. A successful festival experience isn't for those who want to hand off their work to someone else and have it produced. With BBTF, there's a learning curve that is there for a reason and will serve you in the future. It's also enormously gratifying and intrinsically satisfying.
---
See the full Festival at 14streety.org/tickets. Get your tickets today!
Are you a 14th Street Y member?
Get 25% off to our play for young audiences, CARROTS, with code YCARROTS25.