Help More Children With the Gift of Scholarship
We believe that through the power of many, we are able to provide opportunities to our community to experience programs they might not otherwise. We want everyone in our community to thrive.
To help support this initiative, the 14th Street Y is raising scholarship funds to support our growing community. This is a very important fundraising priority for the 14th Street Y as it provides direct financial support to members of our community to participate in programs and events they might otherwise not be able to, such as Preschool, New Country Day Camp, After School, our Special Needs program KOL, and more.
Funds raised can help to provide scholarship assistance to young community members based on need. We strive to assist our community in their ability to join our high-quality programs.

The Importance of Early Childhood Education for a Child and Community
If 100 people donate $200, we can send a child to our 14th Street Y Preschool.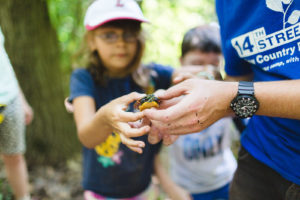 The Unmistakable Long-Term Benefits of Outdoor Experiences on Health
If 20 people donate $100, we can send a child to experience camp for two weeks.

Social-Emotional Benefits of Enrichment Activities
If 10 people fundraise $500 each, we can send a student to our After School program for a full year!

The Critical Need for Parents of a Child with Autism Spectrum Disorder to Have a Good Support System in Place
If 40 people donate $25, we can provide a child with autism and their family a morning of nurturing and enriching programming for 10 weeks.
Just 4 Easy Steps To Get Started on Your Fundraiser
1) Click on the button above "Start Today".
2) Next, enter your name, email and password and click submit.
3) Add a special message about why you are raising funds to give back along with your fundraising goal, you may want to fundraise for $250 or $1,000 – the amount is up to you!
4) Now you can go ahead and post on social or send an email to your friends and family asking them to support your fundraiser.  You can simply say: "I'm raising money for @14streety because I believe that every child should have the chance to thrive. Contribute to my campaign to join my effort."