Longtime community member and LABA Alum, Shawn Shafner is bringing a new piece he directed, BOOTSTRAPS: An American Fable to the Theater at the 14th Street Y next week as part of our season exploring the theme, OTHER.  This show, which was first developed at the Art Monastery, uses acrobatics, slapstick and song to tell the tale of two Americans as they battle their way across a cardboard landscape in search of 'The Dream.'  The piece which is part performance and part workshop, explores how community organizing, along with Dance and Theater, can act as a catalyst for conversation and hopefully, change.
Shawn and is collaborator, Melissa Shaw, an Anti-Bias trainer, sat down with Courtney Smith to talk more about their show and their relationship to the community here at the 14th Street Y.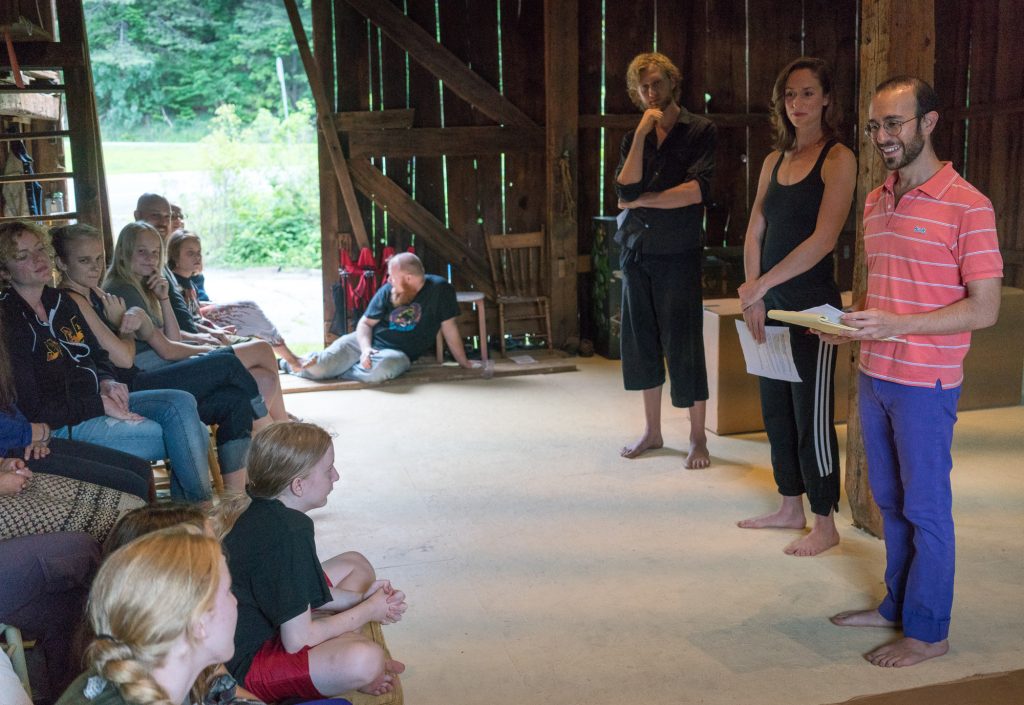 As we often ask ourselves in Theater, I'm going to start with the question – why this piece now? 
Shawn Shafner: The Art Monastery is an organization that has been around since 2008, and had been based in San Francisco. Their work was to bring artists to rural space, initially inside former monasteries in Italy, and to take the idea of a monastic lifestyle — people living in a secluded place, on a communal schedule with their time devoted to god.  The Art Monastery now, is the same thing, but rather than time devoted to god, time devoted to art.  Ultimately, it is people in a rural condition, communal schedule, and spending their time on art.  When the election happened, we knew we wanted to do something.  I have known the people who are co-leading the Art Monastery since 2009, at least one of them.  I think all of us went to the summer wanting to explore issues of race and class, but found ourselves as four middle class white people in the room asking ourselves, how do we do that, and realizing that what we needed to do was talk about our experience as white middle class folk.  And Melissa actually came up, and has been friend of mine through Storahtelling, and we've known each other and been collaborators since 2006.  So she came up as a visitor to the Art Monastery, and was I was like, "Since you're here and you do this anti-bias work, can you help us, let's do a workshop together."
Melissa Shaw: I do anti-bias work and was super excited to come up and super curious about the work.  I run in circles with people that are trying to have this conversation widely, and have this conversation often.  One thing that I think is true is that white people, and we can talk about what being white means, and hopefully we will, but white people do not talk about this in the way that people of color have to.  White people and can turn on and off their awareness.  The world is designed for us and we have to make very concentrated efforts to take about race, because if not we get to default to 'normal.'  I was very happy to go talk about it, because I knew that they are curious about the subject, and they were creating art and using that as a modality to express these questions through.  I did a mini breakdown of an amalgam of exercises I do in various places and it was little bit of a testing ground to see what stuck.
Also, knowing that they would be going on tour and talking to audiences and helping them get themselves prepared to have difficult conversations.  I also helped them refine what they want to express through this, which is where we're going next as a group.
SS: I think you raised something really important about being white people and going into spaces where we are having these conversations often and intentionally.  Melissa has been a sounding board on this for a while for me, and this summer I was so happy to have her there as someone we trust that has been in this work longer.  The idea here is that we created a show that we hope opens hearts and creates this abstract landscape to envision what this means and uses this physical metaphor of boxes to symbolize our privilege, our power, our defenses, our consumerism.  But again, that is all very abstract and I think what will be exciting is our transition from dealing with it intellectually to actually moving it through the space.
That's so fascinating.  I'm interested to hear about how this relates to your artistry and how you have evolved to become active in this work.  How have you moved into this artistic space?
SS: Artistically, there is a similarity between this project and LABA for me.  LABA was the first time as a grown up artist, someone gave me not just time, but support to make something.  They said, "What do you want to make, and how can we help you fulfill that?" And I feel very grateful to the Art Monastery for a very similar sense of being open to what i want to do, and being collaborators that are there to help me do that.
MS: Theatre has historically has always been a space that people come to and things unfold and experiences have the ability to change your life.  Theater is a place where you can hear a voice, see a face, and come together again.  Especially now that we are more separated, places where we can come and be unified is more valuable.  Theater is a place where you come together as an individual and leave as a community. It goes back to the questions, Why theater? Why art? Ultimately it's not, now, when? If not us, who?  Another quote that I loved, which I feel truly resonates with this project is, "It is not your work to finish, but neither is it for you to abandon the work."
To fully get a sense of the incredible work that Shawn and Melissa are discussing join us in the Theater January 20 + January 21 at 8PM.  Following the performance is a workshop conversation which expands upon the themes Shawn, Melissa and I discussed here which focused on Whiteness and the Middle Class Safety Net.
Tickets and more information can be found here.